!- ICRA information follows -!>

<!- end ICRA info -!> <!- tiltonprogress.com -!> <!- Tilton, Illinois, USA -!> to main page: tiltonprogress.com
---
TiltonProgress.com profile/ photo feature of: Mach 1 / Roady's Plaza grand opening
and Seven Questions with Kim- manager of Mach 1, and LaFonde- manager of Little Caesar's Pizza.

date of interview, 11 March 2020

-a note about this one below-
How long have you been in business / and in this location?
- Since Yesterday... not everything is up and running yet.

How many employees?
- Between the various businesses operating in the building, about 25, a mix of full and part time to cover the store's 24 hour operations. More will be added as the other operations get going.

Although it may be obvious, what is your business?
- Gas and food, Trucking services including showers, car wash with vacuum, liquor, video slots....

What do you want people to know about this place?
- The automated check outs free employees up to assist the customers on the floor and to keep the store clean. In the first five hours the terminals were open yesterday the rang up 270 sales with minimal problems!

Miss Sharon is one of the Smiling Faces behind the counter (she's also an assistant manager), just in case you either don't want to use the automated checkout or have an issue with it.

What is the main advantage you see for being located here?
- Easy on and off from 74, busy highway frontage, huge parking area for trucks and, as you can see in the image above, Diesel Exhaust Fluid, as well as diesel fuel, is available at all of those pumps.

Any plans to expand?
- The Little Caesars will be open in a couple of weeks and will have hot breakfast sandwiches in addition their usual menu. The video gaming soon after. The Illinois Lottery terminal and games will be installed any day now.

Anything else you'd like to be on the website about your business?


(tangent) It was as if Ms Kim (left above), who, incidentally, is a 'semi-local' with a great deal of extended family in the Tilton area, and, as she mentioned, she went to school at the old Tilton grade school that is now a park! (the lady to the right is Ms LaFonde, the Little Caesar's manager who stopped putting her kitchen together to come out and take part in the interview, and for that we thank her. Two smiling women are always better than one!)(end tangent)
- "The Mach 1 card earns double points on everything purchased except lottery in the store with a point per gallon on fuel." She explained that 2,500 points equals twenty five dollars credit toward store items including coffee and the promotional and sale items that are already at a reduced price!

The Desk was assured that these STATE OF THE ART coffee machines are simple enough for Don(a famous cartoon duck with temper issues) to operate. We'll find out on another visit.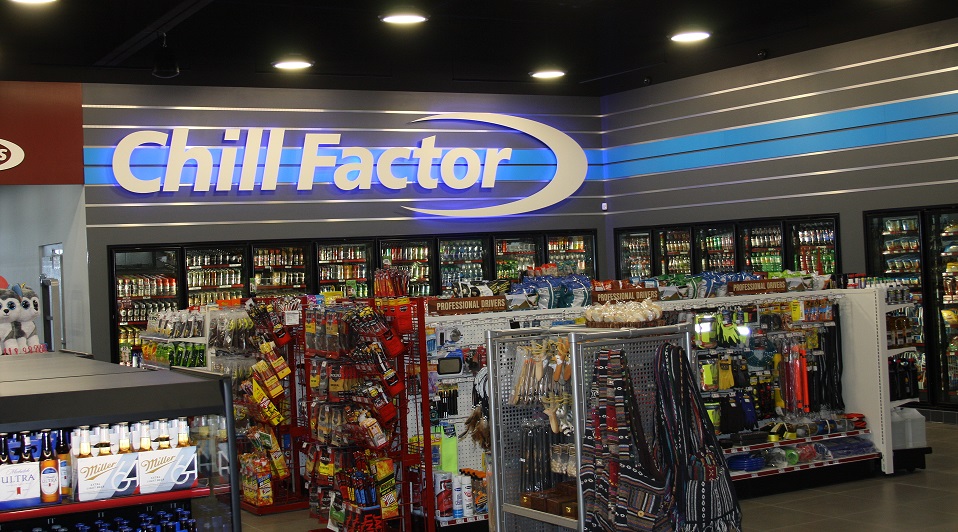 These will probably be very popular in a few months.

part of the 'truck stop' side of things

According to Ms Kim, the sinks in the restrooms are also State Of The Art!

A customer visits with another smiling Mach 1 crew member.
CONTACT INFORMATION:
Mach 1 / Roady's Plaza
1525 Georgetown Rd.
Tilton, IL 61832
main phone number: 217-909-4535
Hours: Most services are 24 Hour (or will be soon!)

Website: https://www.mach1stores.com/locations/store-24
-And-
https://roadys.com/location/1117/Tilton-IL/Roadys-Mach-1-24/
---
NOTICE:
All material on the site is owned by themediadesk.com unless otherwise stated.
All Material on this website, including audio files, are copyrighted by the Desk as of the date of posting unless otherwise indicated.
See Intellectual Property Statement on TheMediaDesk.com
The URL of this website is: http://tiltonprogress.com