!- ICRA information follows -!>

<!- end ICRA info -!> <!- tiltonprogress.com -!> <!- Tilton, Illinois, USA -!> to main page: tiltonprogress.com
---
TiltonProgress.com profile of: Carnaghi Towing and Repair
Seven Questions with Brian Carnaghi, owner, the fourth generation in the same building!

date of interview, 30 January, 2018
These images supplied by Carnaghi Towing:


(the above image is Mr. Brian Carnaghi and a friend of his)
How long have you been in business / and in this location?
- Since 1924 when Brian's Great Grandfather opened a small gas and service station along the main highway in the area. Which, then, was a dirt road from the railroad in Danville to the coal mines to the south.

How many employees?
- 20

Although it may be obvious, what is your business?
- Towing, recovery, and repair of cars and trucks. Moving equipment and heavy duty roadside assistance. We do minor maintenance all the way up to major engine service.

What do you want people to know about this place?
- "Have always been here, will always be here."

What is the main advantage you see for being located here?
- Right on Route One, easy access to 74.

Any plans to expand?
- Just built a new shop. Will soon tear down some of the old buildings behind the original building on the highway. Always buying new equipment.

Anything else you'd like to be on the website about your business.
- Carnaghi's is the Oldest Towing Company in Illinois, and, at last check, the Fifteenth Oldest In The US!

- We are also one of the primary sponsors of the Tilton Toe-to-Tow 5K Color Run and Car Show, to support Cancer Care. The 2018 event will be August 18, see below for more info.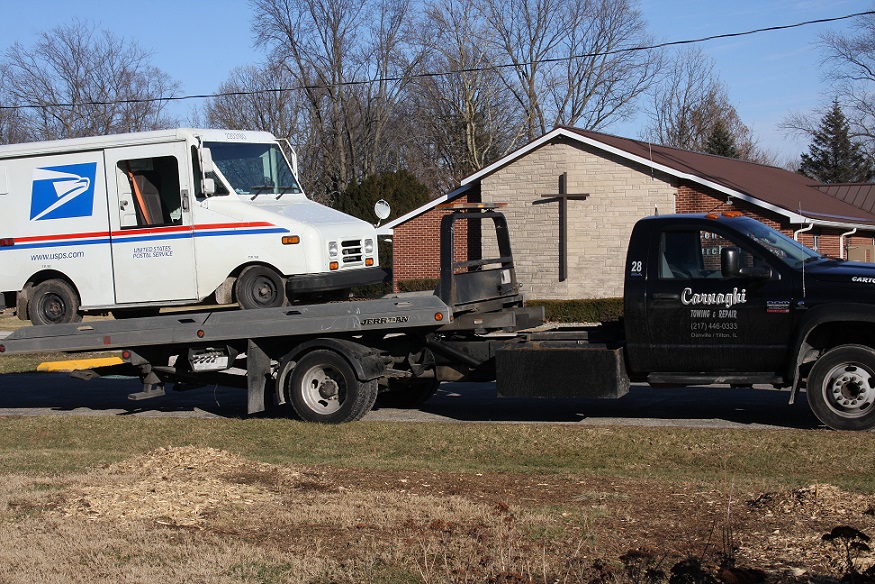 Photo taken by the Desk the weekend before the Profile Interview!

Part of their collection of vintage towing-related toys.
CONTACT INFORMATION:
Carnaghi Towing and Repair, 2000 Georgetown Road, Tilton IL, 61833 
24 hour phone number: 217-446-0333
Website: www.CarTow.Net also: https://towing-danville.com
Facebook: https://www.facebook.com/carnaghitowing/
The 5K Color Run and Car Show:
Website: http://www.tilton5k.com
Facebook: https://www.facebook.com/tilton5k
---
NOTICE:
All material on the site is owned by themediadesk.com unless otherwise stated.
All Material on this website, including audio files, are copyrighted by the Desk as of the date of posting unless otherwise indicated.
See Intellectual Property Statement on TheMediaDesk.com
The URL of this website is: http://tiltonprogress.com