!- ICRA information follows -!>

<!- end ICRA info -!> <!- tiltonprogress.com -!> <!- Tilton, Illinois, USA -!> to main page: tiltonprogress.com
---
TiltonProgress.com profile of:
Vermilion County Animal Regulation and Adoption Center
Seven Questions with Mr. Tony Van Camp, Director.

date of interview, 13 February, 2020

more about those arrows in a minute
How long have you been in business / and in this location?
- The County took over a private animal rescue center at this location in the late 1980's. The 'Adoption Center' was added in the 90's.

How many employees?
- Seventeen, including a veterinarian.

Although it may be obvious, what is your business?
- Animal control for a one thousand square mile county, including, now, the City of Danville, and most of the other towns and villages, including rabies control in Hoopeston. Some have an animal control officer on their staffs, and they still call the county.

What do you want people to know about this place?
- They handle more than just dogs and cats, or exotic pets that escape or are. They are also responsible for 'wildlife' and farm animals that end up where they're not supposed to be. The livestock they make every attempt to return to the owner. The wildlife is released in an appropriate area. If either are injured or ill they are treated as much as possible, either locally or by taking them to the University of Illinois Veterinary Teaching Hospital.

What is the main advantage you see for being located here?
- Centrally located to the whole county. Easy to find for the public.

Any plans to expand?
- Yes! They are adding a 50' by 10' "screened porch" area on the south side of the building as a "Cattery" where they can get some fresh air and play.

Anything else you'd like to be on the website about your business.
- "We are always busy, we handle an average of three thousand animals a year. Mostly dogs and cats, but two years ago there was a semi accident on I-74 and we spent three days wrangling cows along the highway."
- They also appreciate donations of newspapers and cat litter, as well as food, treats, and other items to assist in the care of their guests, see photos below. Call or message them for ideas or to set up a donation drive.
"On The Adoption Side....."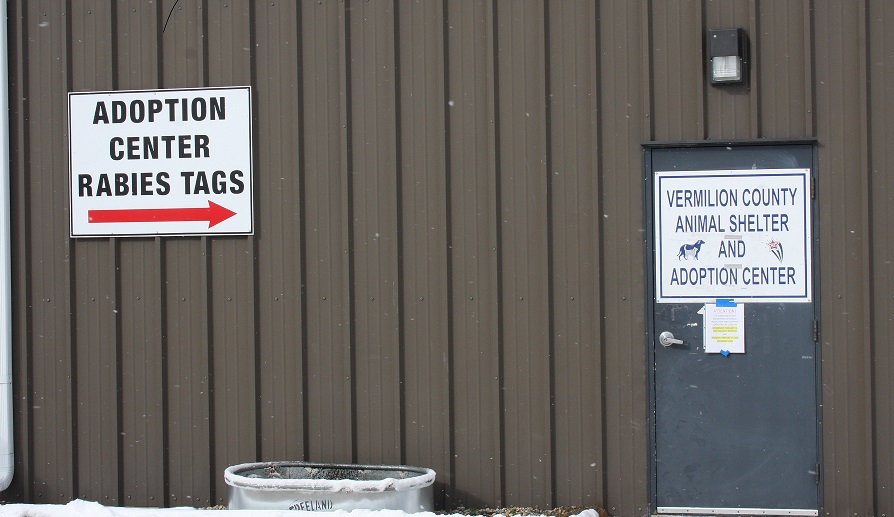 "And on the Other Side."
The gentleman in the bottom picture is the Director, Mr. Van Camp.
The "quote of the week" on the board behind him says:
"Ability, is what you are capable of.
Motivation, determines what you do.
Attitude, determines how well you do it."
(- Lou Holtz )

CONTACT INFORMATION:
4775 Catlin - Tilton Road Danville, IL 61834

Phone number: 217-431-2660

Adoption Hours: weekdays 11 AM to 4:40 PM
Administrative Office Hours For special events see their Facebook Page.

Website: https://www.vercounty.org/animal.htm

FB: Vermilion County Animal Regulations and Adoption Center
---
We're sure there's a joke in there somewhere, but, we'll just skip it and say they're REALLY busy!
NOTICE:
All material on the site is owned by themediadesk.com unless otherwise stated.
All Material on this website, including audio files, are copyrighted by the Desk as of the date of posting unless otherwise indicated.
See Intellectual Property Statement on TheMediaDesk.com
The URL of this website is: http://tiltonprogress.com