!- ICRA information follows -!>

<!- end ICRA info -!> <!- tiltonprogress.com -!> <!- Tilton, Illinois, USA -!> to main page: tiltonprogress.com
---
TiltonProgress.com profile of: Truscelli's Collision Repair
Seven Questions with Mike Truscelli, owner (with a little help from Megan, see photo)

date of interview, 1 February, 2018
How long have you been in business / and in this location?
- Been in business for about twenty-one years, moved to this location from Catlin sixteen years ago.

How many employees?
- Seven.

Although it may be obvious, what is your business?
- Auto body shop, collision repair. Restoration, as seen below.

What do you want people to know about this place?
- We have a staff of trained professionals and all the equipment needed to repair almost any body damage your car or truck sustains. And our work is guaranteed for as long as you own the vehicle.

What is the main advantage you see for being located here?
- Route One location easy for customers to find, lower business taxes than in Danville, the regulations are easier to live with.

Any plans to expand?
- Not at this point.

Anything else you'd like to be on the website about your business.
- Family owned. Accepts drive ins for free estimates, works with all insurance companies.
- Voted 'Best Body Shop' by C-N readers for 2016 and 2017.

Mike, owner, and daughter Megan, office manager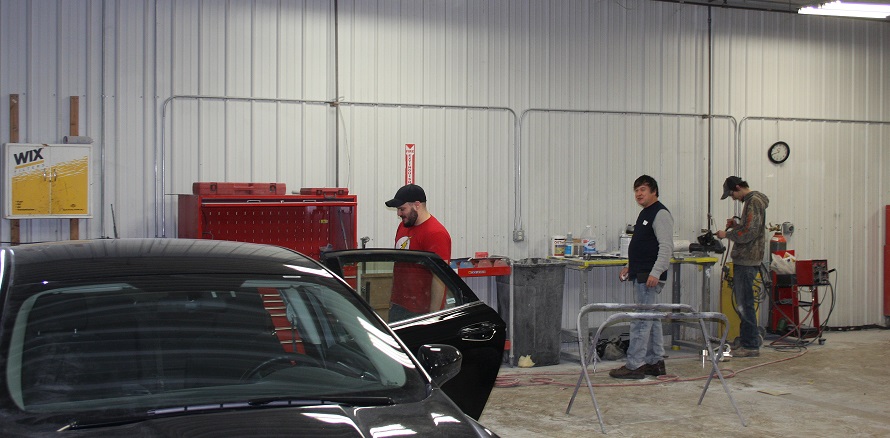 A few of their staff doing body-shop stuff.

A 1972 Ford Mustang undergoing body restoration.
CONTACT INFORMATION:
3010 King, Tilton, IL, 61833
phone number: 217-443-3368
Hours: Monday - Friday: 8 AM to 5 PM.
Website: https://www.truscelliscollision.com
Facebook: https://business.facebook.com/truscellicollisionrepair
---
NOTICE:
All material on the site is owned by themediadesk.com unless otherwise stated.
All Material on this website, including audio files, are copyrighted by the Desk as of the date of posting unless otherwise indicated.
See Intellectual Property Statement on TheMediaDesk.com
The URL of this website is: http://tiltonprogress.com